Monday, December 7, 2015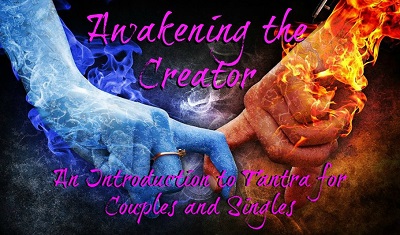 Welcome friends!
We are very happy to invite you to join us for an intimate evening in our home and healing space to explore the wonderful world of sacred sexuality.

The ancient cultures of the East had a very different view of sexuality, a far cry from the repressed and distorted expression of sexual union which is so prevalent in the western world.
Through the practices of Yoga, Tantra and Taoism we will be exploring a new way to experience sexuality as individuals or with partners. This workshop is geared towards those wishing to heal their relationship with sexuality, with their partners and with the masculine and feminine energies which reside within us all and cultivate sexual energy for the purpose of spiritual evolution.


The spiritual philosophies of various eastern cultures all agree that there are two great energies whose dance with one another is responsible for the entire manifest universe and all the various forms within it. It isn't hard to see that in nature there are two great forces acting and reacting to one another. The Taoist tradition called them Yin and Yang, and in Yoga and Tantra we see a similar expression of lunar and solar energies. In our tangible world we see these dynamics most readily available for examination in the polarity of male and female energies. What a lot of people don't realize however is that each of us contains both of these energies equally, no matter whether we manifest as male or female forms.

We are excited to invite Singles and Couples alike to learn how to bring unity to those energies within the body through breath, posture, visualization, diet and how to share this journey with another to transform sexuality into a path towards enlightenment.

A list of some of the exercises and teachings we will share:
~The Role of Diet in Cultivating Kundalini
~Tantra basics for singles and couples
~Tantra myths and rumors dispelled
~Tantric breathing exercises
~Yoga Asana and Mudra for sexual health
~Building trust and intimacy
~Developing a Tantric lifestyle
~Sexual reflexology and acupressure
~Cultivating sexual energy for self healing on all levels
~Redirecting orgasmic energy towards the inner world
~Safety in sexual cultivation practices

HOW TO PREPARE:
Tantric sacred sexuality is an incredible journey of transformation, and requires a level of commitment and dedication. Here is how best to prepare yourselves to begin this journey:

~Begin with the diet, leading up to the workshop, remove meat, dairy and processed foods from the diet. Eat lots of fresh fruits and vegetables in the coming weeks, drink lots of water. Avoid any packaged foods and un-natural ingredients.
~Start self examination, Journaling, exploring your relationship with sex and intimacy, with breath, food, family and the world outside.
~Practice celibacy, to begin this journey it is important to build up a reserve of sexual energy. The way most people experience their sexuality involves wasting a lot of energy. Feel free to explore your bodies but avoid ejaculation or orgasm, this will make a huge difference.
~Take quite time and avoid any intoxicants, or chaotic environments. Everything we do effects our creative energy in one way or another, For Tantric cultivation to be successful one must be very mindful what type of energies they allow into their lives.

WHAT TO BRING:
~Loose fitting clothes
~Yoga Mats
~Journals and writing materials
~Attitude of enthusiasm and openness
~Readiness to share with new friends

WHAT TO LEAVE:
~Cellphones
~expectations
~judgements of self or others
~intoxicants of any kind
~synthetic chemical fragrances from perfumes and deodorant

WHAT TO EXPECT:

This is going to be an intimate event held in a safe and sacred space, we will be practicing fully clothed and there will be no sexual conduct as we tend to think of it, a common misconception of tantra is that its all about sex, although working with sexual energy this couldn't be further from the truth. We want everyone to know they will be safe and comfortable here and it is of utmost importance that everyone arrives with an attitude of reverence and respect for one another and themselves.
This event is open to anyone 18 and older, any shape, size, sexual orientation, singles or couples, men, woman or any other sexual identity.
This will be a great opportunity to share, learn, grow and build sacred friendships with each other based upon mutual respect and love. Anyone who can't respect these guidelines will be respectfully asked to leave for the sanctity and safety of everyone present, but this is just a disclaimer, don't fear, we doubt there will be any troubles at all.

ADDITIONAL NOTE:
You do not need to be in an intimate or sexual relationship with someone to share a sacred tantric experience, so feel free to bring a friend along who you feel comfortable with sharing a sacred experience.

PLEASE AVOID WEARING ANY CHEMICAL FRAGRANCES
We are allergic and these chemicals are harmful and will interfere with the whole experience for everyone.

COST: $90 per person

(includes food and drinks)
Limited space of 12 participants (call now to reserve)


Blessings of love and light,
Namaste ♥
Monday, December 7, 2015
Greetings blessed brothers and sisters!

It is our great honor to welcome you to join us for this sacred healing ceremony.


Hape is a very special and sacred plant medicine which is prepared by various indigenous tribes of South America. It is a powder made of a combination of a wide variety of sacred medicinal plants which is administered by a shamanic practitioner by blowing the medicine into the nostrils. This medicine has a powerful effect on the pineal, pituitary and hypothalamus glands in the brain. It restores balance between the left and right hemispheres, decalcifies the Pineal gland, re-aligns and cleanses the chakras, detoxifies the mental, emotional and physical bodies and removes any unhealthy energies from the being.

Hape is particularly effective at reversing nerve damage in the brain, and clearing addictions and damage from addictive substances.

The experience can range from quite mild to rather intense depending on the level of cleansing required, and can also be tailored to the individual needs depending on their readiness to detoxify. For those who are brave and seek deep cleansing a more powerful mixture can be used in higher doses, or for those who wish to ease into the process smaller doses of more gentle medicines can be administered.

The ceremony will be held on a new moon to increase the energy of purging. And we will also be guiding our guests through a shamanic drum journey and a sharing circle during the evening.
Here is how to prepare:

~Spend time leading up to the experience journaling and exploring your own inner worlds. connecting to spirit and your body, cleaning up your diet and eating lots of fresh fruits, drinking lots of water, and avoiding any intoxicants, especially cigarettes and alcohol.
~Come with an intention for healing ~Fast the day of the event, eating only fruits in the morning and afternoon and drinking lots of water with lemon or lime, and leaving your bellies empty for at least three hours prior to the event. Light food will be served after the ceremony is complete

Disclaimer: Hape is a safe, effective, and legal medicine. The experience is intense for some however and can involve light purging in the form of nausea and vomiting (nothing extreme) and a stimulation of the elimination process causing bowel movements (not involuntary). This medicine is NOT a drug, and has no intoxicating effect. It is quite sobering in fact and could easily be described as the opposite effect of many intoxicants, restoring clarity and consciousness to the being. It is EXTREMELY important to arrive to this event sober and avoid intoxicants in the days leading up to the event.

Many Hape mixtures do contain a small amount of sacred tobacco along with a combination of other powerful plants from the amazon, to best serve you it is important we know of any health conditions, or medications you may be taking to make sure this is an appropriate time for you to partake in this medicine.

PLEASE AVOID WEARING ANY CHEMICAL FRAGRANCES
We are allergic and these chemicals are harmful and will interfere with the efficacy of the medicine for everyone.

We look forward to joining together for healing ourselves and the planet,
Namaste!

Monday, September 14, 2015
Aum Sat Nam Sacred beings
It is with great joy that we invite you to join us in this adventure!
The Magical Mystical Miracle Tour is our greatest new project, and will be the way we take the energy and vision we have been building with Mind Body Soul Healing and its sister organization the Psychic Vibrations Creative Collective and share it with the world.
In spring of 2020 we plan to start out on the road for a continental tour of North America. But not just any tour, We will be buying a school bus and converting it into a mobile home and traveling Musical, Artistic and Healing studio. This Bus will become the mobile headquarters of both Mind Body Soul Healing and the Psychic Vibrations Creative Collective.
Our overall goal for this vision is to create a community funded Documentary film project that follows us on this adventure as we transform the bus by gutting the seats, installing sustainable energy systems including solar and wind generators, plastic to fuel reclamation systems and kinetic energy solutions. Then we will begin making into home, building our recording studio and living space. As we transform the Bus we will begin to travel around North and Central American teaching yoga classes and offering group healing experiences, training practitioners in the healing arts, Hosting outdoor music and dance events, organizing traveling arts and crafts markets, collaborating with musicians and artists to create albums and Filming the stories of the people we meet and the places we travel to.
We will be launching a Fundraising campaign to help us make this dream a reality as we begin building and filming, in preparation to begin travelling. Once we are on the road we will be visiting various locations across America offering yoga retreats and concerts as well as visiting the benefactors who helped make this project happen through their hard work helping raising awareness as well as their financial donations. During the process of this tour we will be visiting sustainable communities and learning more about perma-culture and sharing the gifts we have far and wide in our mission to do our very best to help accelerate the beautiful transformation of this planet we see happening at this great time of cosmic alignment.

At the end of our year long tour we will begin editing the film. But you won't have to wait until then to see and hear the story as we will be uploading video and musical content to our YouTube channel all along the way sharing interviews with all the beautiful people we meet and helping to create unity between people helping to change the world.
For more info and ongoing updates and to become a part of the conversation and planning process of this project, please visit our youtube channel, follow us on twitter or join us on facebook. And stay tuned for links to our kickstarter campaign and donations links here on our website.
We are very excited to share this journey with you, may you all be happy and may all of your dreams come true!
Namaste ~ Mind Body Soul Healing